Even in this day of casual-wear, a tailored suit still carries an aura of success, taste, and style.  Clothing is our second skin, as most of life is spent wearing it. What you wear projects an image and informs the world on how you want to be seen.
  First impressions are often formed within seconds of meeting someone and that impression is in part influenced by a person's appearance. In today's society, this is particularly sensitive when it comes to black men.
  Our desire is to shine some light on these young black, educated, ground-breaking, good looking models. Each model has a different story to tell and their journeys are distinctly beautiful – so to are their life experiences and senses of fashion.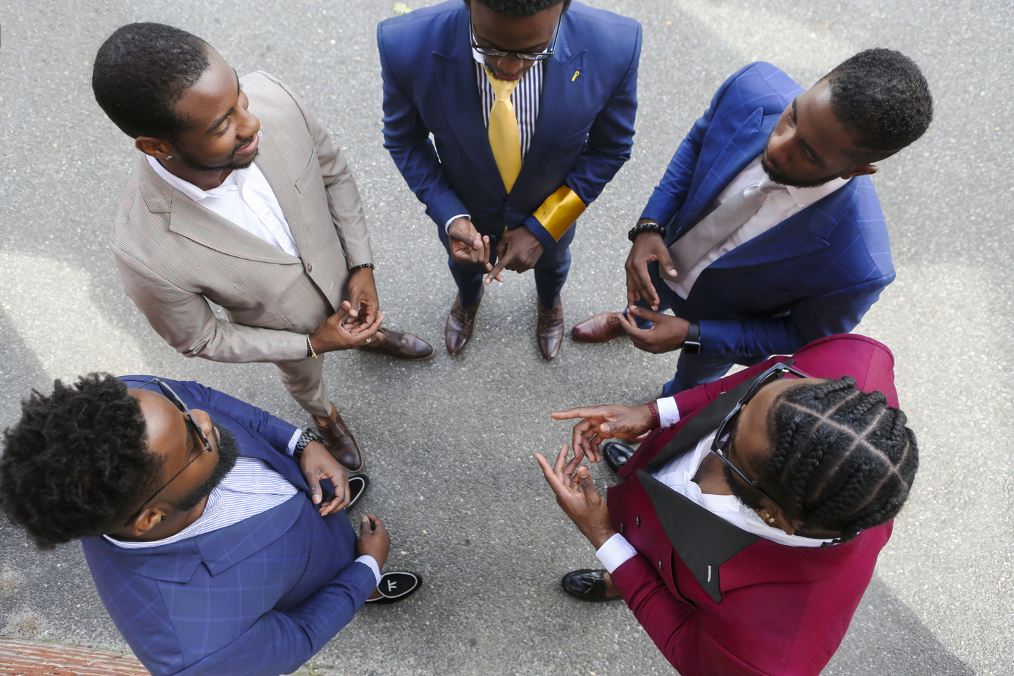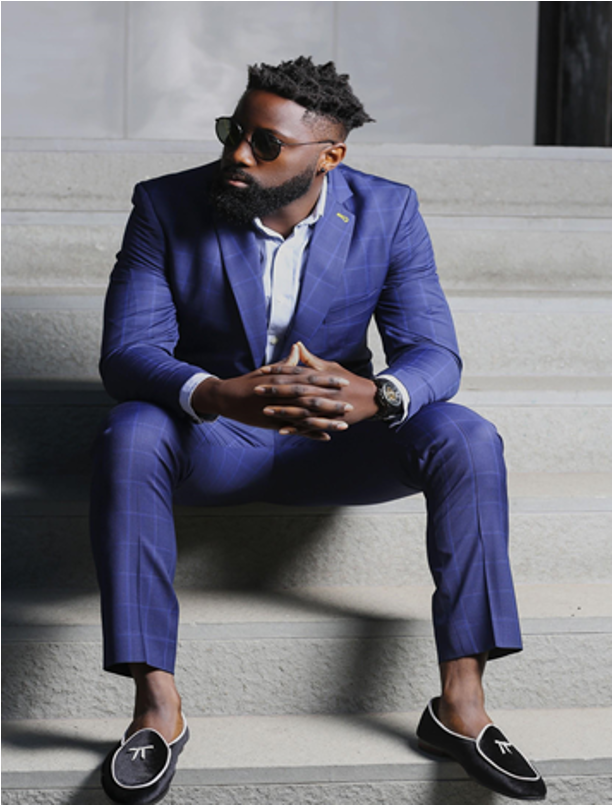 EHS Engineer
  I grew up in Ekona Research- a very small town in the South West Region of Cameroon. I attended school- Primary (elementary), Secondary (Middle), and High in Buea; just some short 10 miles away from Ekona.
How would you describe your upbringing?
  One word. Strict! My parents were by the "book". Basically, I had to go to school, get good grades, go to church and read the bible, respect my elders, one day get a good paying job, and have a wife and family. Although my current perspective may seem a little different from how I was raised, I can be thankful for my parents instilling in me some of these values. My core values: faith/religion, education, respect, and family oriented.
What is your sense of style?
  A good tailored suit! However, I am not confined to a suit or blazer. I enjoy mixing and matching different styles- Contemporary and "Old-fashioned".
What is your go to piece to complete a look?
  A nice pair of shades.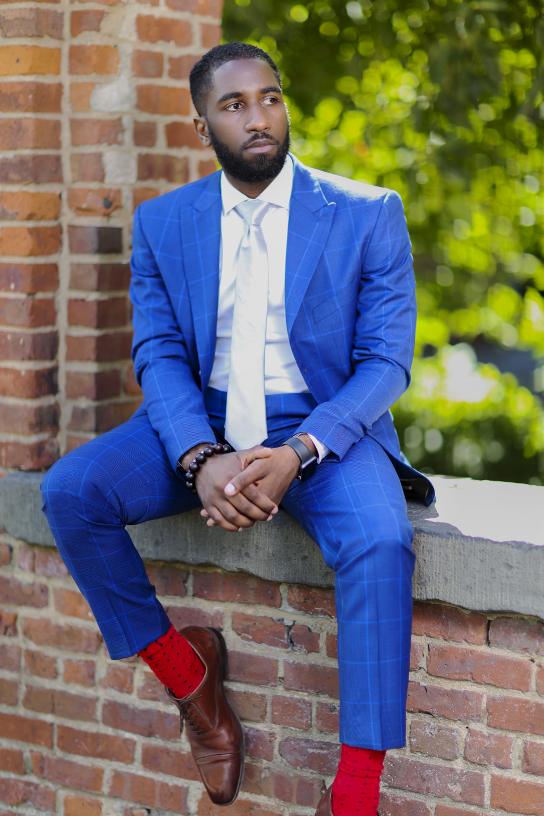 Merger & Acquisition Tax Consultant
   I was born on the island of Antigua, raised in South America (Guyana), and eventually moved to New York with my family for schooling.
How would you describe your upbringing?
  Memories of childhood are equal parts filled with love and struggle.
What is your sense of style?
  My nickname when younger was Fusion, and my sense of style reflects that in every sense of the word. I love to combine elegant attire with a gritty accessory or have a business base with some casual flair thrown in. The juxtaposition inherent in my style is a reflection of my core belief that we are all multi-faceted. 
What is your go to piece to complete a look?
   I have always had a thing for unique jewelry, whether bracelets or pendants that are personalized to me and reflect a part of my character. I'm currently addicted to a dice pendant that I found in Thailand that perfectly captures my tendency to take a chance, after all we only live once right! I don't leave home without it.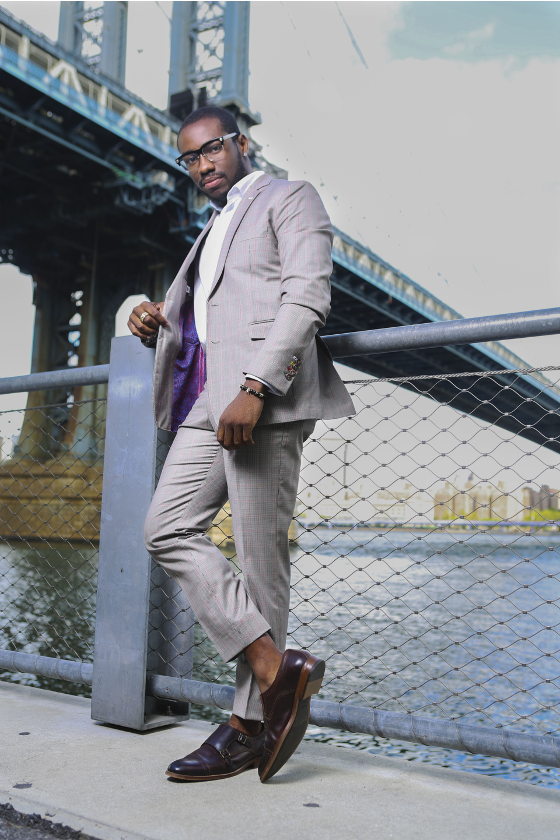 Personal Trainer, Entrepreneur, Global connector
  I grew up in multiple places, which in some ways helps describe my multi-faceted personality. I was born and raised in Haiti until I was about 7. From there, I moved to Brooklyn, NYC- the heart of the jungle. Then I was in Hamilton, NJ. My last 10 years I have been in Reading, PA.
How would you describe your upbringing?
  I grew up very strict with a religious background (you would think my mom was the pastor of  the church). Growing up in Haiti was so much fun and I actually wish I came here later in life because the education there is so advanced.  It's incredible even in the third world. Growing up in Brooklyn was rough in the beginning. I did not speak English. It was a new place, new culture that I had to learn the ways of the jungle. The versastyle of Brooklyn was good and trouble. Haitian kids got harassed from all sides then things changed in JR high school. The melting pot Brooklyn, off all cultures this where we all came together. The fun Brooklyn… the woo Brooklyn (I'm from flaussy). Brooklyn taught me to have heart, shoot your shot at any girl, confidence is key, and most of all go after what you want. Don't ever stop until you get it .
My time in Hamilton, NJ, what can I say: the place where I learned the importance of community, support, love and family. Shout out to my church family (first Haitian church of god). Hamilton will always have a special in my heart. I cannot express enough about the support there. In Reading, PA, I met the realest friends one can ever have, true brothahood. Also learned about real racism there. This was the first place I experienced racism because of the small-town mentality. The history there will blow your mind. All around great experiences that made me who I am and look at the world differently as a black man.
What is your sense of style?
  Classy, athletic, colorful, vibrant.
What is your go to piece to complete a look?
Shades and jewelry.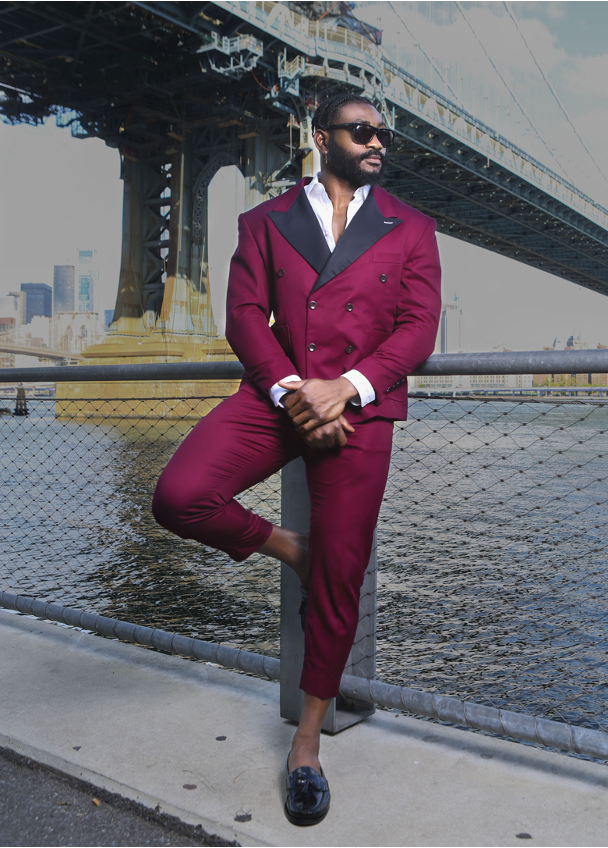 Personal Trainer
  I grew up in Cameroon and Atlanta.
How would you describe your upbringing?
  I grew up in a Christian home with a traditional family value system.
What is your sense of style?
  I would describe my sense of style as modern and athletic. I like a fitted look including jackets, suits, and jeans with loafers or casual shoes.
What is your go to piece to complete a look?
  Truly depends on the mood or occasion. I'd say fitted Jeans, shirt or t-shirt with blazer.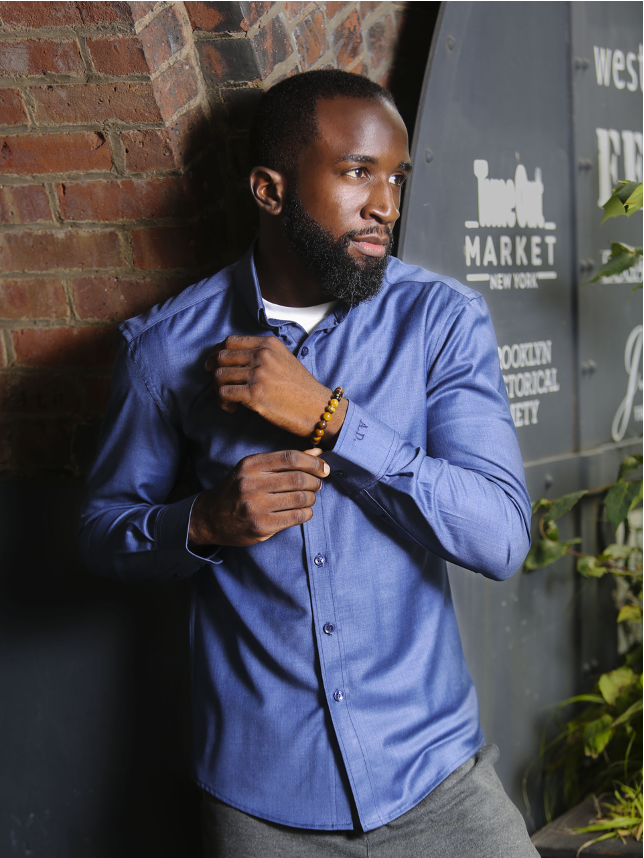 Automotive Service Technician 
  I was raised In Brooklyn; however I wasn't born in New York. My family is from the West Indies. I'm from Antigua & Barbuda. It's been more than 20 years since I left the country. I'm from a neighbourhood called Bedstuy in Brooklyn, New York and spent most of my time living here from when I moved to the U.S.
How would you describe your upbringing?
  During my road to success, there was a lot of challenges that I faced along the path. I made a lot of good and not so good decisions. I'm a devoted worker and put a lot of time and energy into anything that I'm serious about. If there's one thing I can say I learned along the way it is that  "Practice doesn't make perfect, it makes permanent."
What is your sense of style?
  The way that I choose to express myself through style is different from the people that I'm amongst the most. I like to remain low profile while still making a bold fashion statement.
What is your go to piece to complete a look?
  There are few pieces that I use to finish an outfit. I've made a lot of changes with the way I complete a certain look. To list a few: accessories, jewelry (chains or necklace). I choose a more subtle approach when I want to compliment my look. Something small that has a sentimental value to me or an Initial or brand that signifies something gives apparel a lot more meaning.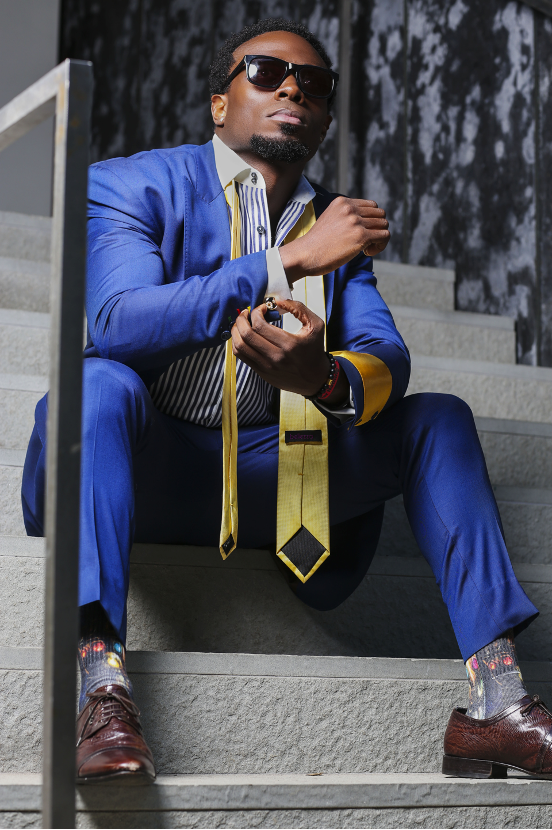 Doctor (Physical Therapy)
  I was born and raised in Brooklyn, NY. Grew up in Canarsie – went on to spend my college years in Downtown BK while attending Long Island University also located in the Downtown Brooklyn area.
How would you describe your upbringing?
  My parents were both immigrants from Haiti, but I was raised by a single mother – like so many men I know.  There was a prominent Caribbean culture in my neighborhood, kids with parents from Haiti, Jamaica, the Dominic Republic, etc. so I was able to create my own "family" of people and kids that I grew up with. It was definitely a struggle growing up, and my mother did the best she could – working two jobs to support my sister and I. Brooklyn during the 80s and 90s as you know was a pretty tough place, and we saw shootings, drugs, and not a lot of opportunity for young black men to see a prosperous future.  I think it is because I saw so much oppression of my people, that I was so determined to prove the outside noise wrong and push back. I went on to complete a Doctorate in Physical Therapy, a Master's Athletic Training, and two Bachelor's degrees in Exercise Physiology- something no one else in my family has ever done.  In the last 8 years I've worked in the NFL, NBA as well as Movies sets as an on location medical consultant. I'd say my life's philosophy is to maxim out on your potential; both physical and metal.  Push your limits beyond that of what is around you and acquire new goals to strive towards. 
What is your sense of style?
  I would say my style is classic and fitted.  "Functional & Fashionable – Defined and Detailed" I like to wear clothes that fit – I've never been into the baggy jeans and giant shirts look. 
What is your go to piece to complete a look?
  My go-to for casual looks is definitely a pair of "perfect fit" jeans, they aren't too tight, and have just enough "wear" to the finish.  For more formal or business looks, I love a good tailored suit vest – not everyone can pull off a vest.
  After getting to know each of these fine gentlemen's background, values, and sense of style,  it is safe to say all their life experiences and lessons have shaped them into the men they are today.  They are proud and confident in who they have become, and a big part of that journey can be credited to their heritage. A black man's style can be very vibrant, festive, and colorful. However, keeping it simple and using tradition is also a cultural principal.
Hey Vogue and GQ, Watch out, Edbesong is here and ready to serve with style and grace.