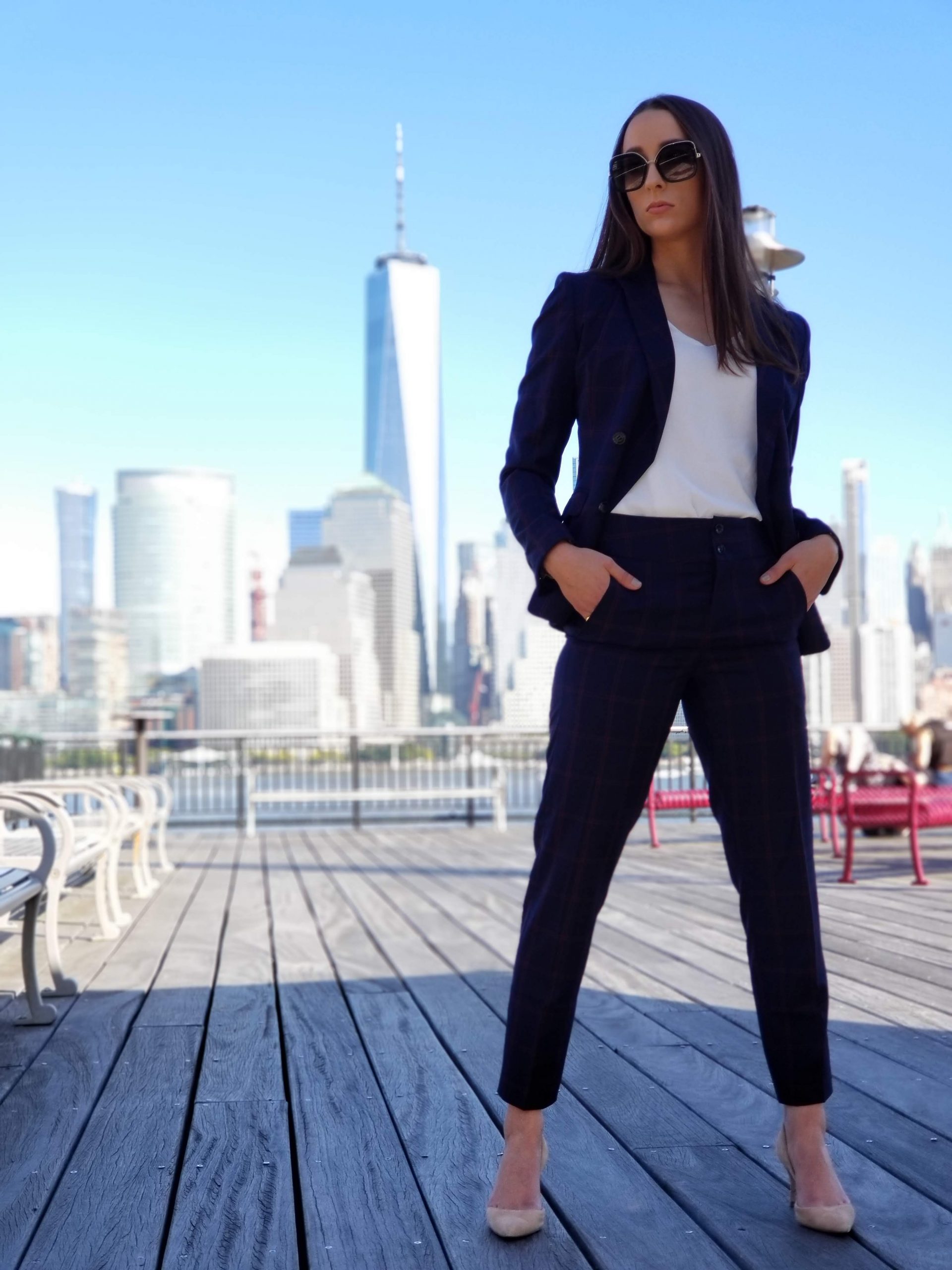 Nothing says confidence and class like a woman in a suit!
For many women, finding the right suit can be quite a challenge. Not to worry, you are about to find out everything you need to know regarding suits for women.
A suit is an ensemble of two or more outer garments such as a jacket, vest, and trousers. Women's suits mainly consist of two pieces, the jacket/blazer and trousers/skirt. Between the style/fit, the color/pattern, and accessories worn with the suit will make up the complete look.
Suits are well-known for professional attire, however that does not mean they cannot be worn for other occasions. For instance, a suit can be worn to formal occasions, such as dinner parties, or even date night. The key is knowing
which suit to wear for which occasion and finding the best suit to fit your personal sense of style. Here are some things to consider when securing a suit:
Mix and match ... but keep it together
Your top and bottom pieces do not necessarily need to be cut from the same fabric, so you do not need to buy a full suit set. One thing to keep in mind is be sure that the materials are at least similar in texture. You should be able to put pieces together that will look creative. A simple blazer can enhance your entire outfit and give you that professional look. There are endless options of suit designs, so have fun mixing and matching to your own personal style.
Fitting your suit just right
Having a suit fit perfectly for your figure is an important staple to have in your closet. The two main areas of your suit that showcase your body shape and overall identity. These are the shoulders of your suit jacket/blazer and the seat of the trousers (if you are going with a pantsuit.) It is imperative to consider your body type when selecting your suit style to ensure you are most comfortable. For example, to best fit a curvy body type, a shorter cut blazer would be recommended. If you have a slender frame, a sleek, fitted trouser would be most adequate for that particular body type.
A monochromatic design is known to be a more sophisticated look, but the color choices do not always have to be black and white. If you are willing to make a bold statement, why not go for bright colors and unique patterns. If you are willing to push the boundaries with this look, you will have to be courageous and confident. When mixing and matching, be sure that the bottom you choose is either the exact color or similar color scheme. Otherwise, a solid black or white bottom or even jeans would be suggested! The key takeaway here is ensuring the color you chose compliments your personality, confidence, and the occasion.
Other elements of your suit include the undergarments you chose and your accessories.
The piece of garment you chose to wear under your jacket should blend with the entire look. For example, if you want to wear a patterned shirt, your blazer should be shorter in arm's length so that the shirt detail can show. If you are looking for a basic or more casual look, a simple white t-shirt would be a great option. If you are considering more of a sophisticated-sexy look, an appropriate colored cami-sol or bralette would be the perfect addition to complete the entire ensemble.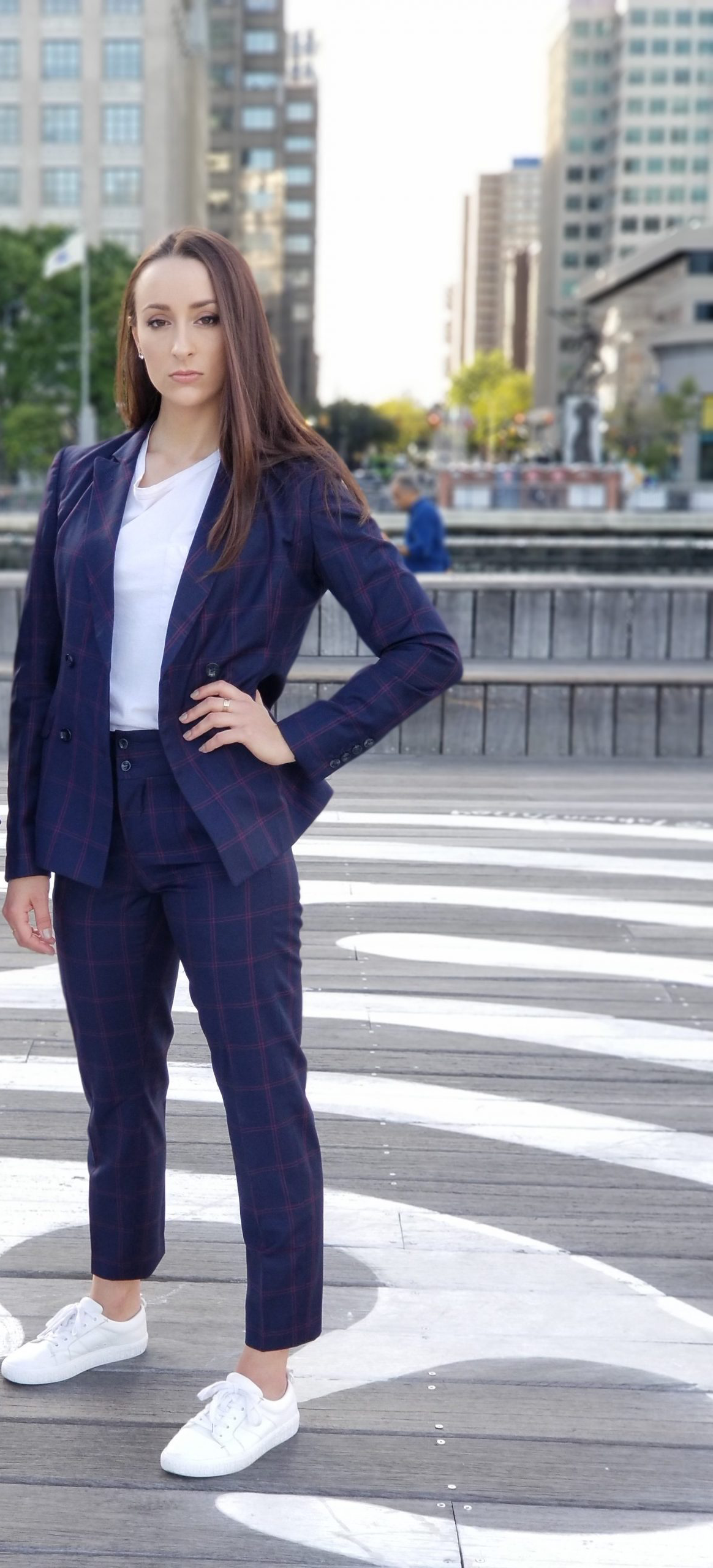 Based on the style of your suit, pick the size of your purse or handbag. For fitted suits, you can go with a large handbag of an appropriate color. Your bag or purse can match your shoes or basic black, white or nude generally work. Your shoes should also complement the style of your suit. For example, if you are wearing cropped trousers, you can opt for a pair of low sneakers or heels. In terms of shoe color, black or nude are always versatile options.


In summary, womens suits are a must have when it comes to a complete, resourceful look. Depending on the occasion, a suit can be dressed down or ampedup based on the suit style and accessories. The one thing you must remember when wearing a women's suit is be sophisticated, powerful and most of all have fun!


At EdBesong, we have a highly skilled team of tailors who will cater to
your custom needs. Anywhere from blazers, trousers, and full set suits, we have you covered.